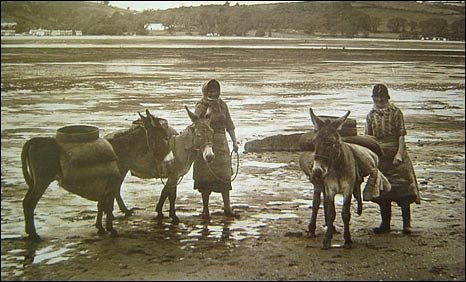 By Nick Parry
BBC News  
There used to be a saying in west Wales that went: "He who marries a Llansaint woman marries a fortune."
For many years the wives from the village would work up to 10 hours a day gathering cockles by hand and then take them to sell on donkeys. It all ended in 1973 when the three women still to make such a living called it a day – all in their late 50s and 60s. 

 
The last three Llansaint cocklewomen retired in 1973
 
In pictures: Llansaint cocklewomen                              
The last of them – Gwyneth Phillips – was buried this week having died aged 90. Fred Bevan's mother Gwen and Elizabeth Jones worked the beds for many years alongside her.
"These three cocklewomen used two donkeys each to gather the shellfish all the year around – five days a week," he said.  It was hard work. The gathering took place in all kinds of weather – they would spend two to three hours and then walk with the donkeys to Ferryside station.
"The whole thing would take five hours and they would do it twice a day in the summer. "What has happened in the last few decades is it has become mechanical with machines coming down."
Mr Bevan has written a book about the tradition, which dates back several centuries and which he says was passed down from one generation to another.  
"Back then it was very unusual in many villages for both parents to work.
"In Llansaint the husbands would work in the mines, at the brickworks or on the land and the women would gather cockles as well as run the household."
He said he remembers his mother going out to work with a scarf on her head, a sack wrapped around her and gym shoes on her feet.   The women would use nothing more than a rake and sieve to gather the cockles.
"Our job as kids was to put labels on the sacks at Ferryside station, where the stationmaster would weigh them before they were put on the train.   "They would usually be sent to Bristol and Cardiff."
His mother died in 1987 and Mrs Jones 10 years later.
"Gwyneth's death really is the end of an era," added Mr Bevan.
"She was very kind and very helpful, a devout chapel attender. She lived in Llansaint up until about two years ago and was very well known in the village."