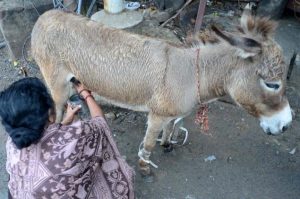 Of all milk, the donkey's is the costliest in the city – Bangalore Mirror
You may laugh at this but it is the truth. Donkey's milk is turning out to be the costliest milk sold in the city. A spoonful of it is being sold from anywhere between Rs 60 to Rs 100! Many donkey owners are flocking to Bengaluru with their animals to sell this milk.It is widely believed that donkey's milk is good for children, which is why it is in great demand. While this claim is proffered only by tradition, nevertheless the milk of the donkey is still soaring as donkeys are a rarity in the city.
Ranjita Kumar, a homemaker, said, "I was told by my in-laws that donkey's milk is very good for health. The next day, I was surprised to see a lady walking with a donkey and selling the milk. When I asked for it, she said each spoon costs Rs 100 and I had to buy it."
Rajappa, a farmer from Tamil Nadu, said, "There is a growing demand for donkey's milk in Bengaluru. Hence we bring donkeys from our village and camp in a particular area. We make it a point to walk the streets only in the mornings and sell the milk. As we travel a lot and there is a great demand for donkey's milk, it is priced high."
Admitting the high demand for donkey's milk, Dr HC Jayaprakash, registrar, Karnataka Veterinary, Animal and Fisheries Sciences University, Bidar, said, "We have heard stories that even Cleopatra used to drink this milk. One of the main reasons why donkey's milk is preferred is because it is similar to human breast milk. It has a lot of factors that increase immunity. Hence it is a good choice for babies." However, paediatricians express caution and ask mothers to be careful.
Dr Ambica, paediatrician at Malathi Manipal Hospital, said, "I have heard people saying that grey matter cells and intelligence increases if one consumes donkey's milk. However, there is no scientific proof for this. There might be a difference in level of protein in donkey's milk when compared to cow and buffalo milk, but it can't be considered better."