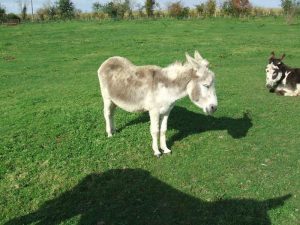 JAZZY was born to Margaret-Joyce in June 1993. She had neglected to mention to anyone that she was going to have a foal and had not changed shape at all to warn us, so Jazzy was just there in the stable one morning! Like all donkey foals he was very naughty but now he is grown-up, and has turned out to be a very handsome donkey, if a little bossy. He definitely does like his own way!
Available:
• Regular adoption - £15.5
• The Adoption Gift Pack - £28.5

Updating...