Once a donkey has been taken into our care, we continue to undertake the cost of that care month after month, year after year. The bills increase, if anything, as the animals' requirements increase – for example, Bracken needed painkillers nearly all the time in her latter days, and these are VERY expensive. We can only continue to help donkeys like her if the funds are available to pay the bills.
Unlike some organisations these days N.E.D.D.I. receives no support from the Lottery fund or similar.
Choose from below if you would like to adopt a donkey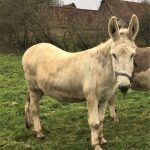 PEDRO A big and friendly (now!) donkey who had had a very bad time living at a children's home where they were not always very kind to him. His feet had grown dangerously long and were very painful; because he wasn't at all used to being handled getting them sorted out was a bit of a trial but we managed it in the end and now he is pretty much the boss of the herd. He came with his son – below

I would like to adopt Pedro
REMUS Came in with his father (Pedro, above) and is still very nervous of pretty much everything. Poor boy was really scarred by his time being tormented by the kids. He is big and powerful , and very beautiful in his two-coloured coat but it is wise to respect hus back hooves! A dear boy though.

I would like to adopt Remus
LAURA was born at the sanctuary in 1994. Sheis just a big baby, and has had to be separated from her mother, Penny, whenever possible because she refuses to acknowledge that she is grown-up now!She is very tall for a donkey and no-one can quite work out who her father might have been. Whoever he was, he must have had a very stubborn streak which he has passed on to Laura.

I would like to adopt Laura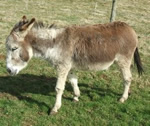 VALENTINA was born at the sanctuary on 14th February 1996. Her mother was Alice. Valentina can be a bit over-boisterous sometimes, but it is all very good natured.It is taking some time to learn some manners! She has grown up to be a very good-looking donkey and might win some prizes if she entered some competitions. She would definitely win prizes for escaping through fences – she doesn't seem to believe that the same rules apply for her as for other animals, and just barges through them if she fancies being on the other side.!

I would like to adopt Valentina
DAKOTA – is a dark grey male with stunning markings, rescued from an uncaring owner in northern France together with Utah, Tahoe, Sequoia & Sierra. He is very handsome (and knows it!) and is a little inclined to stand about in glamorous poses to be admired. Maybe a career in films is called for?

I would like to adopt Dakota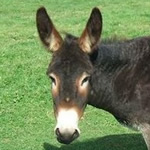 TAHOE – is a dark brown male and very friendly, in spite of what he was suffering when he was found. One of the "gang of five" he is a sweet natured donkey and gets on with all the others very well.

I would like to adopt Tahoe
SIERRA– the daughter of Sequoia, born in safety and very playful! But she likes to look after her mother if she thinks it is called for and will dash over from wherever she is playing to be helpful. She goes very shaggy in her winter coat and is inclined to look a bit like a toy donkey.

I would like to adopt Sierra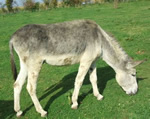 DAMIEN – a leggy grey donkey from south west France. He has travelled all over Europe, having been shipped from Romania initially. He was then bought by some people in Spain who could only care for him for a short period. He came to NEDDI in 2004 and is a really sweet natured boy who adores people. Apparently he has a problem with his heart, but fortunately it has not given him any problems yet (keep everything crossed!)

I would like to adopt Damien
COQUETTE used to live some way outside Paris. Their owner used to visit her every Sunday but as she got older even this unsatisfactory arrangement got more and more difficult. She was very worried for Coquette's safety in case something happened during the week, or if she could not visit, so a veterinary friend of the family sought out NEDDI & arranged for her to come into NEDDI's care. She is VERY big – tall and proportionately large generally. Most people think she is a large mule, or a donkey of the Poitou breed, but she does not have that distinctive "Rasta" coat. She is just – big! She took a little time to get used to new people and new donkeys but is now happy in her home, even if it's a bit tricky getting round themher if she is standing in the way!

I would like to adopt Coquette

SALLY was found wandering the lanes of Cornwall by the police and was taken in to the care of the NEDDI herd. She has wonderfully stripey legs, just as if the is wearing striped stockings. A bit of a loner, content to be around other donkeys and people but not actually with them.

I would like to adopt Sally
LILY
Lily came to the NEDDI sanctuary from a very loving home, but she was living in the back garden and getting very bored and fractious and was behaving very badly, which is only natural for a young donkey who needs space and companionship. Her life was about to get even more difficult when her family's circumstances changed for the worse, so it was looking really bad for her. Donkeys in France who are sold to unknown people often face a very uncertain future and her owner was terrified as to what might happen to her. She was born in 2002 so is still quite young and loves being with the NEDDI herd.
I would like to adopt Lily