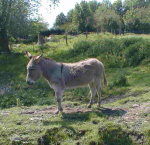 When BRACKEN first came to us she had to be carried from the lorry – her feet were so painful that she had been "walking" on her knees for months. NEDDI was able to provide veterinary help, and get her on the road to recovery. She was with us for 15 years, and had to continue with pain-killers all that time but with that help she enjoyed a happy retirement and died at the extremely old age of 56 years old.
After years of neglect of her feet MEGAN suffered with bad arthritis in her shoulders – she needed a special waterproof & warm rug , together with pain-killers and extra bedding in her stable to keep her warm in the cold months.
SALLY was found wandering the lanes, abandoned and would have been destroyed had NEDDI not been able to take her in and provide for her. We hope she will be with us for many years to come.
BRIDIE needed 3 years of love and gentleness before she would allow anyone to approach her head – imagine how many beatings it took to create her fright. These days she is an old lady with a very shaggy coat, but happy toddling about the fields.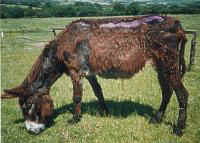 CECILE arrived with feet so broken she could not stand, and infested with worms and lice. After the attentions of the vet and the farrier, and lots of grooming and special oil to help her coat re-grow she spent many happy years with us.
EMILY had been left in a field and forgotten. She would not have survived without the care we were able to give her.
GILBERT (Bertie to his friends) had been badly treated and very lonely. He is still very nervous of people, particularly children, but enjoys being part of the herd and has made some good friends amongst the other NEDDI donkeys.
NED had been left to fend for himself and had ended up on the beach, nearly starving. He came to the sanctuary and soon became a fine figure of a donkey.
All this care is only achieved through the kind generosity of caring people. There are so many ways you can help – perhaps by arranging a donation through a monthly standing order? Or making some purchases through our GIFTS PAGE. Or perhaps by remembering NEDDI when making your will?